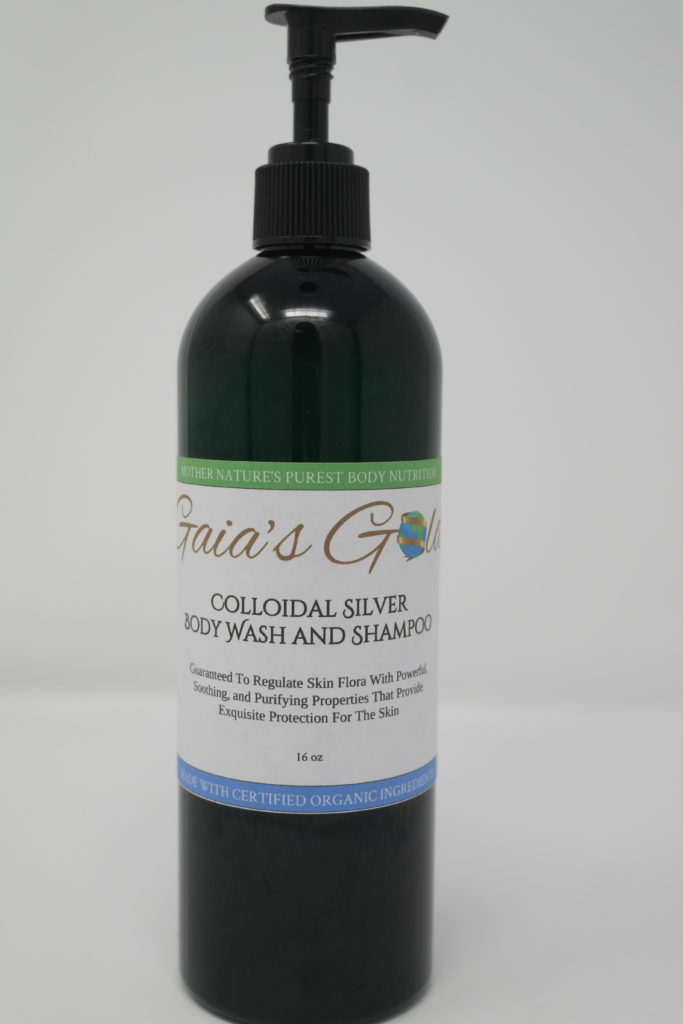 COLLOIDAL SILVER BODY WASH AND SHAMPOO DETAILS
All Natural, Non-GMO & Vegan Soap Formula With Organic Essential Oils And Colloidal Silver.
Guaranteed To Regulate Skin Flora With Powerful, Soothing, And Purifying Properties That Provide Exquisite Protection For The Skin!
This product is especially adapted for the delicate and sensitive skin.
Safe For Our Furry Friends.
Recommended Usage
Variety Of Uses As Needed.

Deep Clean Skin and Pores, Deep Clean Hair, Remove Makeup, Remove Blackheads, Cleanse Facial Hair, And More!

Container
BPA Free PET Plastic Bottle With Pump Top
Volume
16 oz
100% Pure Ingredients From Mother Nature
Does Not contain alcohol, manufactured waxes, petrochemicals, artificial skin softeners, artificial colors and flavors, silicon dioxide, and other manufactured chemicals.
Purchase Gaia's Gold Colloidal Silver Body Wash And Shampoo
Non-Scented
$12
Rich In AntiBacterial Properties, Healthy Oils, Vitamins and Minerals!
Fast Order Processing
All in stock orders will be processed and shipped within 24 hours. Shipping days are Monday – Thursday (Shipping On Fridays Only During Colder Seasons excluding federal holidays within the United States).
Faster, Cheaper Shipping!
We chose to implement a flat rate 2-3 Day shipping price for all orders (based on size and location) to make shipping times faster, cheaper and more effective for all of our customers. All packages are also safely insured for our customers for peace of mind in any emergency.
Customer Rewards!
Earn numerous discount award codes and even free products when you post a review of your Gaia's Gold Products, or when you have a made a referral!
Click here to learn more!
Not done looking? There are more products to explore!